Season
The best cherries are available to you
Victorian cherry growers have rich soils and a moderate climate in order to grow the best cherries for you to enjoy.
Different varieties are grafted onto a rootstock in the orchard and most growers have at least 10 varieties which mature throughout the season.
Each week at least one variety will be ready for picking. Each variety has its own characteristic flavour and texture, even white and sour varieties are sometimes available.
When you go to a "Pick Your Own" cherry orchard, look for cherries that are firm, bright and shiny with fresh green stems. Ask if you are allowed to sample some of the different varieties as they all taste a little different.
Ask if you can buy some of the biggest cherries if you have a special gift or occasion in mind – so you will stun your friends with the size and quality of these very large cherries.
Cherry season
The Victorian cherry season begins in most areas about the first or second week of November and continues through until mid-January.
Peak season is in the weeks leading up to Christmas -- so don't miss out for your special Christmas treats and gifts.
Seasonal factors such as frost, hail, humidity and rainfall can affect the quality and volume of cherry crops. Constant care and management is required by orchardists at harvest to maximise crop output.
Cherry availability guide
Variety
November
December
January
Merchant
Rons
Bing
Stella
Lapins
Sweetheart
Major Cherry Production Areas
The majority of cherries are produced in the southern states of Australia, with major growing regions including Orange and Young in New South Wales; the Huon Valley in Tasmania; the Goulburn Valley and Sunraysia regions in Victoria; the Adelaide Hills in South Australia; and the Donnybrook/Manijump region in Western Australia.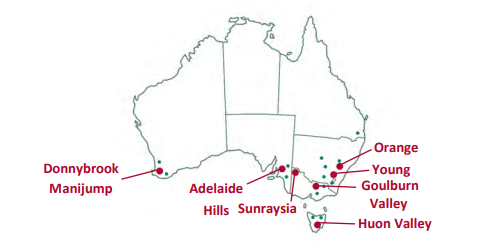 and return it to: VCA Secretary, PO Box 612, Mooroopna, 3629